NWHL : A league of their own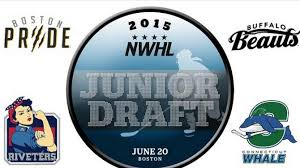 We've all heard about the superstars of men's professional hockey, but there were never many opportunities for women athletes to shine on a Major League team before. That is, until now. This year was the will be the beginning of the long legacy of the newly formed National Women's Hockey League. The NWHL will be the very first opportunity for women to play profession hockey in their own major league in the United States.
The NWHL currently consists of four teams: the Boston Pride, the Buffalo Beauts, the Connecticut Whale, and the New York Riveters. The inaugural draft took place on June 20th of this year in the tradition of lottery. New York received first pick followed by Connecticut, Boston, and Buffalo. The overall first pick for New York was a graduate from Boston College and a recipient of the Patty Kazmaier Award for the best female hockey player in the NCAA was forward Alex Carpenter. Other first round picks included forward Hannah Brandt from University of Minnesota by Connecticut, forward Kendall Coyne from Northeastern University by Boston, and defenseman Courtney Burke from University of Wisconsin by Buffalo.
In customary tradition, the NWHL, of course, has their own version of the Stanley Cup. Named after Lord Stanley's daughter, Lady Isobel, the trophy was titled the Isobel Cup. Lady Isobel was one of the first of women to play the game of hockey. Her love and devotion towards the game ultimately inspired her father as well as this next generation of women honoring her name in playing for her trophy.
The NWHL he received immense support from the National Hockey League and the fans and players of the NHL as well. In April, Commissioner Dani Rylan read a statement of support for the NWHL from the NHL. In this statement, Rylan quoted Commissioner Gary Bettman by saying: "The National Hockey League supports the growth of women's hockey at all levels. We wish the NWHL well as it presents the women's game to a larger audience."
The inaugural NWHL season will begin in October and go until March. The season will include a preseason, an All-Star weekend and playoffs. Each team is said to have two organized practices per week and one game each weekend, totaling to nine home games and 9 away games. The NWHL stated that "the puck is set to drop" October 17th, though no specific team was yet slated to play. However, numerous fans eagerly await the start of a groundbreaking season.
Information taken from the NWHLwebsite.