Boys' soccer: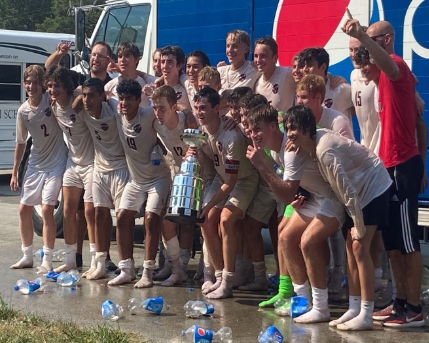 When asked what makes the varsity boys' soccer team as successful as it is, player Josh Stefans states that it can all be summed up into three impactful words, "RISE AND GRIND". From 5am practices to conditioning practices, the varsity boys' soccer team powers through every training and will always strive to give their best, no matter the circumstances.
This is very evident when looking at the boys' current standings. Their ongoing stats (at the time of writing) are twelve wins, one tie and one loss. Our boys stand out on the field due to their strong bonds on and off the field and the mindset to be competitive, but also remembering to have fun playing with your friends. The players won the "PepsiCo Showdown" tournament and they beat the undefeated Lockport varsity soccer team, which was an amazing game not only because of how well the boys played but also due to the enthusiastic fan crowd. 
In the past, many of the boys' soccer games did not have a fan crowd but due to their amazing season they attracted a roaring enthusiastic student section that cheers on and motivates the players. The soccer games attracted enough passionate students that the student section at the home soccer games even have game themes!  When talking with Josh he stated joyfully that the boys are excited to play when there is a fan crowd because it makes the players more determined to win to make the fans proud and fired up to come and continue supporting the varsity soccer team. The team is determined to continue crushing their opponents as they finish off this historic season and cannot wait to continue hearing the roaring crowds.