Dive in!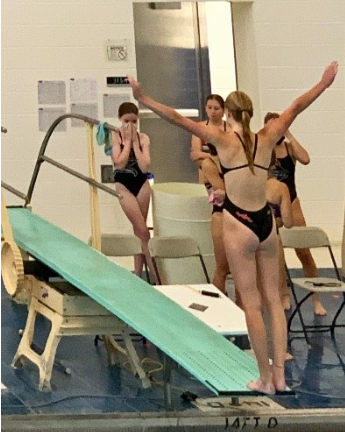 Playing sports is the highlight of many people's high school years. Sports build friendships and make long lasting memories that you will look back on your entire life. Lincoln-Way Central offers over 20 sports that students can play all year round. One of these sports is Dive.
Diving is usually only featured under the swimming category, and hardly ever stands alone as an individual sport. Girls Swim and Dive is in the Fall and Boys Swim and Dive is in Winter.  In an interview with Abby Hawksworth, captain of the girl's dive team at Lincoln-Way Central, she states, "I think Dive is an underrated sport because it's a specialized event in swimming and it's always the swim practice and swim meet but never a diving meet, you know what I mean?"  
Dive is composed of a team that completes flips and tricks off a diving board. A dive team competes both as a team or individually. In an interview, I asked what some of the divers' favorite parts about diving are. Varsity diver Lauren Rosinski shared, "My favorite part about diving is the people because no matter if you're having the worst day ever or the best day ever, they will always be there to cheer you up and make your day better no matter what and you get really close during the season." This statement was followed by insight from Angelika Zapart, another varsity diver, who claims, "I think that the people that we're surrounded by really makes a difference on the team and just helps out with your mentality." 
Dive is a sport that is unique, but also challenging and somehow less recognized than others.  One trip to a meet would have you in awe.  So, whether you come out for the team, or to support the team, come out and see what they can do!