Soccer spotlight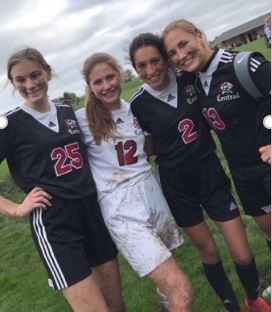 Being an athlete is not an easy task, many know the struggle of balancing your school life, sports, and time with family or friends. People don't play sports just because they think it's fun, they are involved in the game because they love it. They live for the practices, games, and competition, but most of all they are in love with the sport and can't imagine not being able to play it. A strong athlete is always improving both mentally and physically. The most successful athletes are the ones that will go the extra mile, put in more effort, and never give up. Sarah O'Rourke, a freshman who is a part of the Lincoln-Way Central junior varsity soccer team, is an outstanding player, as well as a devoted student.  
 Sarah herself stated that "My favorite part of being on the high-school soccer team is just playing the game I love, and meeting hard working ladies that I can learn from." Being on the school team really opened her eyes to the competition, and showed Sarah that practice is for giving it all you got, and improving yourself everyday. Any sport in high-school goes by in the blink of an eye, and Sarah believes that one import aspect of the game is having fun and being in the moment with teammates.  
 One of Sarah's idols and inspirations is her older brother, Devin O'Rourke. He worked very hard in the sport of football, and got a full ride to play at Northwestern University. Devin inspires Sarah because he is always succeeding and works his heart out striving to become one of the best defensive players. He pushes Sarah to achieve her goals in sports and with school.  
 Sarah works and stays motivated towards her school work. She always is trying to get the best grades she can achieve, and stays on top of assignments. Sarah agrees with the idea that students who are participating in sports should not procrastinate, or be lazy with school work because it creates bad habits. Student athletes have to utilize time wisely, and stay focused with homework and studying just like they would stay focuses on the field.  
 Being an athlete requires dedication and lots of time and effort. You have to be willing to give up some nights with friends to play the game and practice. You have to accept the fact that sometimes you will fail, because no one wins every single time. Sarah O'Rourke is a great example of what an athlete needs to be like, and what characteristics they have to have in order to succeed. Most importantly she shows excellent work on and off of the field.