Volleyball spotlight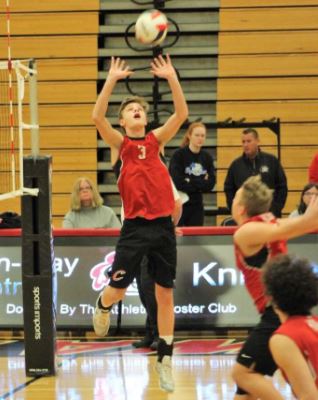 Students view the month of May as the end of the tedious school year and the beginning of a long-awaited summer. However, the members of the Lincoln-Way Central Varsity volleyball team have a different outlook. May is a crucial time for the athletes, who are amid their Conference games. The players never break their focus away from this exhilarating sport, but how do they keep up with the demands of high school life?  
Freshman setter, Will Hinchcliffe stated that, "my parents always keep me motivated through tough challenges." Although Will has a lot on his plate, such as preparing for finals and becoming the sophomore class President next year, he never misses a moment to enjoy the sport he loves. Will says he "will do my best to manage my responsibilities." Hinchcliffe recommends that busy athletes utilize Quizlet since it is so easily accessible. With these study tips and organization skills, an athlete is sure to succeed in both school and sports.  
Not only do athletes need to be skilled in handling the stress from grades and school work, but they must also learn to deal with nerves before a game. To relax, Will suggests listening to music or talking and joking around with teammates. Hinchcliffe had to adapt quickly to being moved up from the junior varsity to varsity team. Will recalls the moment he was asked to move up after his first tournament with the junior varsity team, claiming that "it was my biggest volleyball accomplishment because it has made me a better player and presented me with many opportunities that I would have never had otherwise." Like most young athletes, Will tries to exceed the expectations of the junior and senior players who always support him. Will remembers it being a difficult transition that he slowly became accustomed to due to the welcoming attitudes of the older members.  
While some believe that winning is the most significant part of playing a sport, others know that there are other aspects to the game than just competing. The facet Will enjoys about playing for the Central volleyball team is the ability to learn new skills that he has gained from his coaches and peers. It is important for an athlete to remember the advice they receive from others instead of following their path alone. The future holds many goals for young stars to accomplish but they cannot get there by themselves. Will hopes to one day play volleyball in college. As a freshman, Will has a long time to exceed his volleyball aspirations. He reinforces that getting into the sport early was a good decision. Hinchcliffe started playing in seventh grade and is grateful for his coaches that have helped him become the player he is now and strives to be.  
Volleyball is a fast-paced popular sport enjoyed by many. Whether one is involved in many activities or wishes to be, volleyball is an exciting sport to play for fun or competitively. Will advises younger kids to participate in volleyball by stating, "Always have trust in yourself and in your team. If you don't think you or your team can win, chances are you won't."  
All in all, playing a sport like volleyball is a great opportunity to get out of one's comfort zone and make some long-lasting friends, as well as memories.