End of a season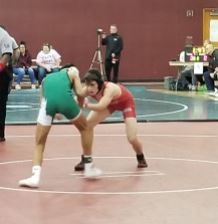 Teddy Kucaba, Staff Writer
April 4, 2019
Hang on for a minute...we're trying to find some more stories you might like.
On February 2nd, the varsity Wrestling team, after months of hard practice and preparation took off to Regionals to finish off their season. The wrestlers had undoubtedly spent many hours working for this one moment in their long grueling season. For three wrestlers in particular, it is easy to say that their practices paid off. These three wrestlers gave the competition everything they had and were rewarded the opportunity to continue on. Lucas Sargent (195), Michael McCormack (220), and Chris Pasowisty (285) all placed at Regionals and moved on to Sectionals. It should be noted that some other members of the team, such as junior Thomas Hincks, are also moving on as alternates. From there, all their work will have paid off, as they would be attending state.
With all the varsity wrestlers moving on being seniors, junior Colin Hobert of the varsity team says, "They have more experience and have worked really hard because it is their last year" and he and the rest of the team believes, "we're all really happy to see them moving on and working hard towards stat." But just because this is the last year for these seniors to be on the team, Colin believes they are not leaving them with nothing, "they always had good energy and I believe that their great work ethic will continue onto next year". Colin left with a record of 1-2 at Regionals this year, but has this to say regarding next year: " I hope that we can have a better season and come away with more wins, but more importantly grow as a team."  With that, LWC wishes luck to the varsity team with sectionals next weekend and hope for the future!