Why not synchro?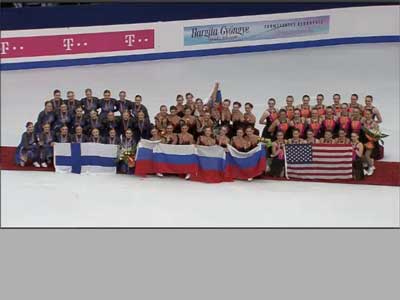 Angelina McNulty, Staff Writer
May 17, 2016
Figure skating is a very obscure sport in the eyes of the public, and even fewer people know about synchronized skating. Synchro skating is a sport in which 16 teammates skate together in various formations, doing difficult footwork and lifts. The United States is a strong contender in the world senior level, meaning our country would have a likelihood of bringing home Olympic success. Team USA 1, who skates out of Boston, won the bronze medal at Worlds this past April. The Starlights, a local team out of northern Illinois, won the silver medal at Nationals competing at the highest level before international competition.
Synchro is the only discipline of skating that is not in the Olympics, and competitive synchro skaters who are constantly asked if they will ever be in the Olympics sadly have to say no. The trending hashtag #whynotsynchro voices the frustration many skaters feel with the absence of synchro in the Olympics and the lack of awareness for the sport. It is extremely unique and does not get the credit it deserves, even amongst skaters in other disciplines. In June of 2015, the International Skating Union proposed to the Olympic Committee that it be added to the 2018 Winter Olympics; however, it was denied. There is, however, much hope for synchro in the 2022 Olympics. With any luck, synchronized skating will soon become known around the world as a difficult and qualified Olympic sport along with the other demanding disciplines of figure skating.