Valhalla
A Sci-Fi series that kicks butt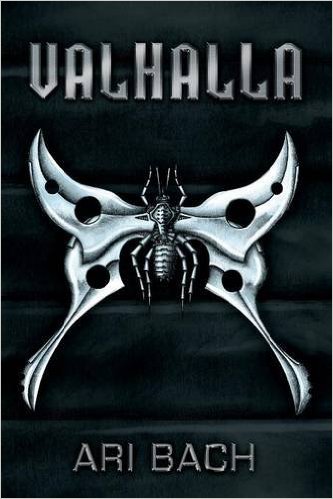 Amy Zajac, Entertainment Editor
February 18, 2016
Valhalla by Ari Bach is a book unlike any other. The author described the book himself with this statement:
"Join Violet MacRae as she kicks butt. Then kicks more butt. There's a lot of butt kicking in this book is what we're trying to say here. First some gang kills her parents and she kicks their butts. Then she joins the army and kicks their butts. Then she gets kicked out of the army for kicking their butts and gets hired by an underground band of butt kicking warriors… And she kicks their butts. Watch as she gets her first sparring match with her new friend and punches his eyeball out of his head. Watch as she tracks down the brother of the gang boss that killed her family, and guess what she does? She kicks his butt! Watch her go from a useless barbarian to the only chance the planet has to deal with its villains. By kicking their butts. And for some reason there are walruses."
The reader follows Violet's story as her parents are killed and her "undesirable" skills finally suit her well as she attempts to track down the man who made it happen. As the story takes place in the year 2230, society is very different from what we're used to and technology is nothing short of fascinating. The plot is uniquely captivating and the character development guarantees that no reader will finish the trilogy unaffected. One reader said this about the book:
"Valhalla by Ari Bach is possibly the best sci-fi novel I've ever read. It's a dynamic story with fantastic characters, world building, and action. The plot is just as fleshed out as the protagonist, Violet, who is one of the realest protags I've encountered in a series to date! The story is easy to immerse yourself in. The development of the characters and plot is intense and delightful, and at times wonderfully frightening. Espionage, futuristic technology, and walruses shape the tale of a violent young adult as she finds a place to belong in the world. The series pulls the audience in for an intense, gory ride through the halls of Valhalla. The book is written with progress in mind; it's fantastically inclusive. It does not attempt to glorify the graphic, at times monstrous, personalities of its characters… the story is absolutely addicting. I couldn't put it down! The writing is refreshing, I've quite literally never read another book like it in terms of voice and tense. Or terms of anything really? I can't name a single other book with such an inclusive cast and aggressive plot that still finds time for fun jokes, references, and giant walruses."
I personally found the book simply amazing. The entire world was so well thought out and intricately developed that it was impossible not to get sucked into every setting. The technology, situations, and antagonists were different from anything I had ever read or seen and it was truly refreshing to read a book so unlike anything else I had run into. The characters, despite being so incredibly talented, were still multi-faceted and relatable and I found myself caring for all of them. The plot is chaotic and intricate and unique to only this series and by the end of Ragnarok, has dragged the reader through everything on mankind's known emotional spectrum. It is highly recommended to everyone who has felt even a spark of interest for the book while reading this review.
Gudsriki, the third book in the Valhalla series (after Valhalla and its' sequel, Ragnarok) was released for purchase on October 29th, 2015 and all of the books can be found on amazon.com. Besides, with such reviews and promises of an intense plot, diverse and wonderfully developed characters, and even walruses, how can one resist picking up a copy of Valhalla?