Trending: Back to the Future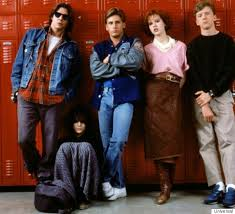 Ever wonder why your jeans aren't cool anymore? Because they're not high-waisted. Why are high-waisted pants popular, anyway? Time to find out!
Many trends from the 1970s, 80s, and 90s have emerged in the hallways of LWC. Although they had faded from the front line, now they're back to the future! Many clothing choices are making a comeback, but that's not all! T.V. shows, bands, and much more are popping up again. Here's the scoop on the new, but old, trends for this year:
1) High-Waisted Bottoms- Just like in the early 90s, jeans, shorts, and skirts have waistlines that come up to your natural waist. Typically worn with crop tops, these high-waisted bottoms are nothing to ignore. This popular look has made it on the front page of many magazines, as well as into some of New York's hottest clubs. These bottoms have everything; including being dress-code approved…unless you wear them with that crop top!
2) The Breakfast Club- This John Hughes masterpiece has been watched and rewatched many times by 80's teens. However, the timeless flick has made a comeback, and is now being enjoyed by the youth population of today! Because of the big-grossing motion picture, Pitch Perfect, which referenced the movie several times, teenagers became curious about The Breakfast Club and decided to watch it for a couple hours of laughs, tears, and fun. Don't you forget about The Breakfast Club. And at this rate, no one will anytime soon.
3) F.R.I.E.N.D.S- This hit 90s show has remained one of the most popular sitcoms of all time. The beloved characters, hilarious jokes, and timeless one-liners are often the topic of conversation for many students between classes. And hey, why not drop a few references during free time in class or discuss which character you're most like with your neighbor. Conversations like those were totally relevant back in the show's heyday, and they sure are relevant today! So next time you spot someone you like in the hall, channel your inner Joey Tribbiani and make sure to say, "How you doin'?"
4) Tie Dye- Let's get groovy! Back in the 70's, everything in sight was covered with this popular pattern. Nowadays, things are starting to look a little psychedelic again. Whether it's for a school science t-shirt, or just plain fun, tie-dye is the way to go! Grab your buckets and get dying! These t-shirts can be worn on any occasion, and can easily add a pop of color to any look.
5) Nirvana- The essence of grunge, flannel, and outcasts, Nirvana's gritty sound was familiar to the rebellious teenagers of the 90s. Nowadays, high schoolers can be seen sporting Nirvana gear in the hallways of LWC. Whether those who wear the shirts know the songs or not, Nirvana is definitely a hot band for teenagers in 2015. Grunge is making a comeback, my friends, and look out, because the group that it's headed for smells a whole lot like teen spirit.