Halloween Knight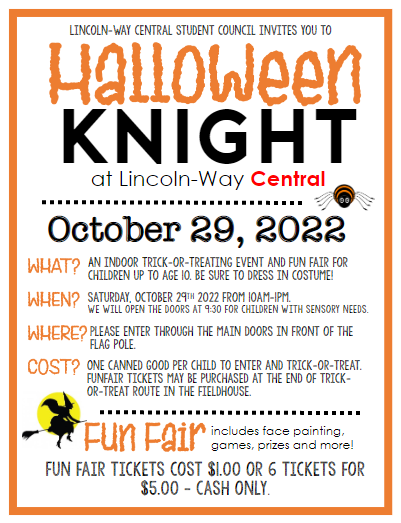 Halloween- a holiday full of decorations, costumes, and most importantly, trick-or-treating. So important that our Student Council proudly hosts its very own trick-or-treating event for the community! October 29th is the (k)night to come down to Lincoln-Way Central and help out with and activity or club that you participate in. Due to COVID-19, last year's Halloween Knight was outside, but this year it will be within the school. With the help of a lot of clubs, Student Council is working to make sure Halloween Knight will be as memorable as ever!  
Ms. Brady, the sponsor of Animal Volunteer Club, helped to give some more behind-the-scenes background. Per her words: "Halloween Knight is a community event hosted by Lincoln-Way Central's Student Council and different clubs volunteer to staff the event. It is a really wonderful event that brings our future Knights into the building." Each club will sponsor a doorway that will be decorated. There, candy is handed to young trick-or-treaters as they pass by. Of course, Halloween isn't Halloween without costumes. That's why Student Council encourages volunteers to wear costumes that are appropriate for a young crowd.  
Halloween Knight is not just about the candy, but it is also a fun way to give back to the community and earn volunteer hours. Decorating, donating candy, and handing out candy is just about the best way to earn these required hours.  Also, attendees are asked to bring a pantry item or canned good for each child attending the event.  This collection will go to the New Lenox Food Pantry.
If you're worried that your own trick-or-treating will have to be skipped in order to help out at Halloween Knight, don't fret! Halloween Knight takes place on Saturday, October 29th from 9:30 am to 1:30 pm. So, make sure to save the date and pitch in – you won't regret it!