Friday KNIGHT Lights: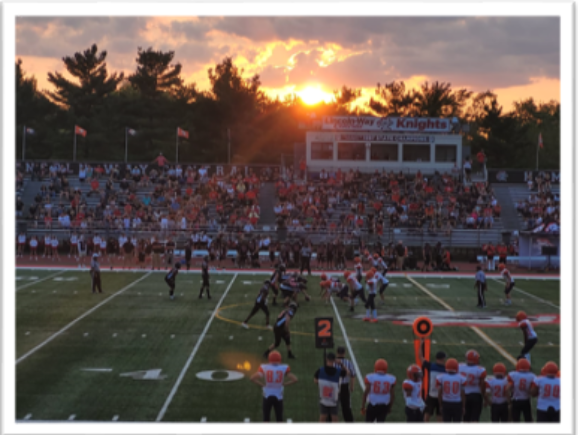 Friday, September 16th was the perfect day for a game. Blue skies, no clouds in sight, sun beaming against our backs, and just a slight breeze. Many students as well as families came out to watch this game dressed in their Chicago-themed jerseys.  
In an interview, Varsity Quarterback Michael Kuehl explained how cool it is to see how many people come out just to watch you play a game you love. From the loudest side of the bleachers, from the side where you can barely walk through, from the 30 people all smashed together on one bench, from the cheering and shouting and dancing and overcrowding. This is what a homecoming game is all about.  
 Many people arrived around 7:20 to see the Varsity Homecoming game, and by 7:30 there was no longer any room in the student section. The parking lot was just as full as the bleachers, students stacked on top of each other just as well as the cars. 
With just a few minutes left on the clock, the LWC Varsity Knights secured the win against Stagg with a final score of 41-0. The bleachers shook as the students cheered wrapping up a great homecoming game. "I was very proud of our Team's performance on Friday Night! It was a total team effort that contributed to the win! The stadium was packed, and it was an electric environment! We are grateful for the support of our students, faculty, families, and community…there is no place like home!" (Head Coach Jeremy Cordell)