Two Takes on Final Exams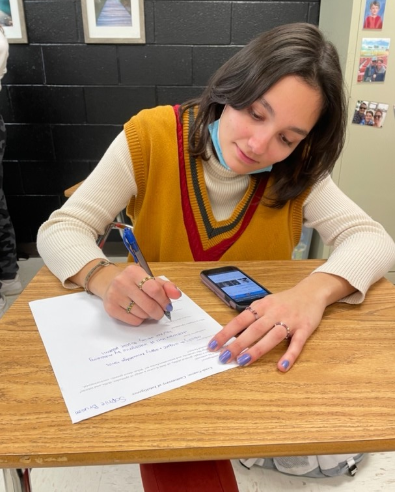 With finals quickly approaching, everyone is feeling anxious getting back into the swing of things. Some of the underclassmen have not experienced how finals at LWC work, so I have interviewed seniors, Madelyn Husenger and Emily Studenroth to get their insight and tips, to help you succeed this December.
They both agreed that flash cards are a great study tool that incorporate repetition, while also being extremely accessible and convenient.  Emily quotes, "One of my favorite ways to study for finals is to condense my notes from the semester and rewrite key points. This helps me to feel a little less overwhelmed and also helps me to reabsorb the information from the beginning of the semester that I may have forgotten." This a one of the many great study "hacks" that you should consider giving a try in the upcoming weeks!
Madelyn states, "I love utilizing online resources like quizlet and kahoot. They are always accessible from my phone when I have down time and they are really easy to make!" When asked about the time frame of their studying the girls replied collectively, "We try to start studying as soon as we get our study guides from our teachers. If no study guides were given, we like to fit in 25-30 minutes of review two weeks before the final." Emily went on to say, "It's also very helpful to me to study in the order my finals are going to be, it almost rewires the way my brain works to say I'm shutting off physics and heading to stats, which mimics my finals schedule."
If these helpful tips from these wonderful upperclassmen are not enough for you, feel free to check out the LWC Finals review sessions before and after school, put on by the wonderful English Department. There, they will give you many helpful strategies to try to find what works best for you! Study hard, try your best and enjoy the rest of the semester, Go Knights! 
-Emma Vander wall 
 As the first semester begins to end, finals are just around the corner. Many feel overwhelmed and do not know where to begin studying since for most this will be the first or second final. People have many ways to study.
I asked Maddie Flinn, a senior at LWC, how she studies and gets successful results on these finals. I first asked her how she feels about finals, and she said, "they are overwhelming and cause a lot of unnecessary stress." This is a common response because many do feel stressed by these finals as they can impact your grade tremendously if you do not perform well. 
But there are ways to minimize that stress through different study tactics. I asked Maddie how she studies for finals and what seems to help the most. She replied "I like using note cards and doing quizlets, those seem to be extremely useful. I also enjoy going through my study guides that the teachers give us because those tend to be similar to the actual finals." 
I then finished by asking her about how many weeks in advance does she typically begins to study for these finals. She then said, "I typically study a week and a half before the final because that helps me study a little bit a day and it is easier than trying to cram the night before." These tactics have helped benefit Maddie and multiple other students throughout the final exam season. So, whether this is your first final or your last, make sure to find a strategy that helps you prepare best.  
-Charlotte Toosley