Most-loved meal options at LWC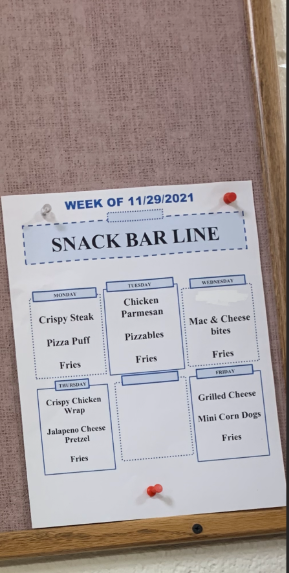 The length of the lunch lines is the most accurate method of determining what is on the menu at Lincoln-Way Central. It does not matter if you go to the snack bar or the meal line; there is always a long line that extends throughout the cafeteria. These (otherwise inconvenient) lines mean that students are consistently coming to eat the lunch every day. This begs the question: what are the best foods that students are able to buy in the snack line and the meal line? I will provide five of the most popular foods that are available in the cafeteria in no particular order.  
The walking taco is found in the main meal line. The walking taco comes with a pretty tasty churro and costs $4.50. According to Zachary Paris, a regular on the snack lunch food line, "I do not eat frequently at the main meal line, but I will eat the walking taco whenever they have it because it is one of the best foods in the main meal line!"  
Ravioli is the most enjoyable pasta lunch found in the main meal line. There are different types of pasta served, including tortellini and ravioli. The ravioli is served with a breadstick. Both pasta lunch meals cost $4.50 since they are in the main meal line. According to Zach, "The ravioli is the best type of pasta that they serve, and the tortellini just cannot top it!" 
The rib sandwich is served on the snack line. The rib sandwich is not served every day.  According to many, it is not served often enough. When it is served, it is worth buying and eating. Zach states "It is a great option to get in the snack line." 
Grilled cheese may be the most popular lunch food of all. Grilled cheese is also found in the snack line and costs $1.50, making the grilled cheese a great buy for the money. Zach says that he always grabs 2 whenever the grilled cheese sandwiches are served because they are just that good. I agree with Zach's opinion that the grilled cheese is very tasty and that you should buy one when you have the chance. But, in my opinion, the grilled cheese is not the best food served at the school. 
The meatball sub is my personal favorite food. The meatball sub can be found in the snack line or the main line but is primarily a main line food that is served approximately once a month. I do not buy the school lunch every day, but I will always get the lunch when the meatball sub is available.