Historic soccer season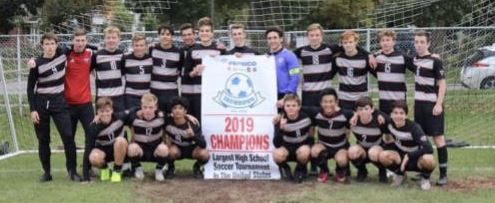 Lincoln-Way Central's boy's soccer team just capped off a historic 14-4 season, highlighted by an 11-game win streak and a tough overtime loss to Bloom. Despite this loss, the season was a breath of fresh air for the program, placing them at number 50 of 3A schools in Illinois, with an emphatic win in the "Pepsico Showdown" tournament. I had a chance to sit down and talk with midfielder Dylan Leonard about the season. He had this to say:
How did it feel to win the Pepsico Showdown?
"It was really exciting to finally win something with the team. Afterwards it was really fun because we got to go crazy and spray Pepsi all over."
How do you feel about the team's success this season?
"It was a lot of fun even though it ended early. We deserved to win a few more playoff games."
How has Lincoln-Way soccer changed you?
"It has not only made me a better teammate, but also a better man. I've learned to form a bond with my team and coach.
After such a successful season, the future for the program looks bright. We will all be watching for success in the years following this great season.