One scary job!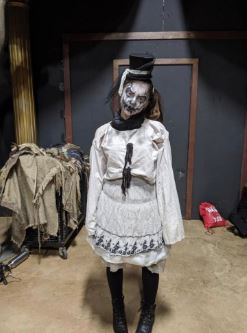 Hang on for a minute...we're trying to find some more stories you might like.
What better activity to do during the Halloween season than to travel to a haunted house? Hellsgate Haunted House in Lockport, Illinois sure was the place to go! Hellsgate, ranked number 1 in the nation, is a spooky attraction composed of 30 different rooms. What's special about each room, you may ask? Each haunted room follows a different theme. Whether it be a section full of twisted dolls or a room dedicated to haunting creatures, Hellsgate has all the scare factor you could ask for. What's especially unique about HellsGate is that it is split into two portions- the forest and the house. Before entering the haunted house, groups are led through a dark, eerie forest. All these scary factors are what makes people return to the house year after year! The haunted house is so popular, in fact, that students from our very own Lincoln-Way Central have found work there.
One Central student, Ava Briscoe, worked at HellsGate for the very first time this past October and November. After visiting HellsGate several times, Ava fell in love with the spooky atmosphere and decided to apply for a job. Ava explained that "the overall Hellsgate experience is really fun and it's a really cool environment." Although the goal of the Hellsgate employees is to bring the scare factor, they all care for each other behind the scenes. Ava added that "you feel like you fit in because everyone knows everyone, it's one big Hellsgate family." An accepting HellsGate family and welcoming atmosphere makes Hellsgate more incredible than it already is. When asked, Ava said her favorite part is definitely walking through the house alone on breaks because "even when you work there and are familiar with everything, you still get surprised when one of your fellow employees jumps out and scares you." Ava loves her job so much that she plans to return next Halloween for another spooky season. So whether it be the scary house itself or the behind the scenes family atmosphere, HellsGate is definitely the place to be on the next eerie October night!