Spotlight: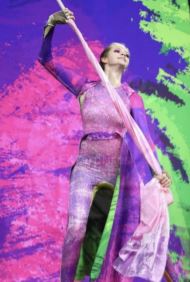 Emma Vanderwall, Staff Writer
December 17, 2019
Hang on for a minute...we're trying to find some more stories you might like.
As the new winter season begins for many winter sports here at Lincoln-Way Central, so do the many musical activities. Valerie Polowinczak, a sophomore, is involved in the LWC Winter Guard. She began participating in Color Guard in eighth grade and immediately fell in love with it! Some of her biggest inspirations include her parents, her sisters, and her coach Tammy Calivota. She also says her teammates are a huge inspiration, and she always appreciates how they always cheer her on in good and bad. Although a large time commitment is involved in the program, Valerie quotes, "The performances are always so rewarding. I love being able to showcase all of our hard work and see all of the other schools' pieces. It's a really fun community." This year, the varsity performance is titled "Look at the Stars," and you definitely won't want to miss it!