LWC's Legally Blonde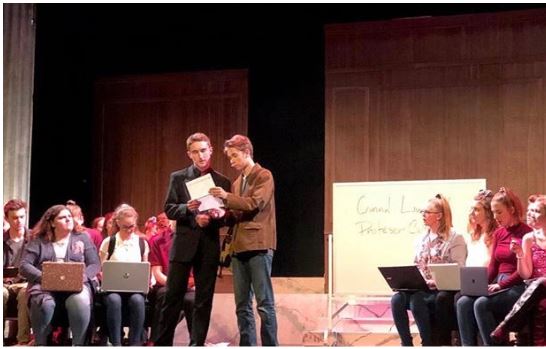 In recent years, there has been an increasing demand by consumers of media for stories about empowered women– women who can be confident and assertive, while still embracing their femininity– and Hollywood has delivered. No movie better exemplifies this trend than the 2001 Metro-Goldwyn-Mayer rom-com Legally Blonde, based on the Amanda Brown novel of the same name.
Originally starring Reese Witherspoon, the movie follows the story of sorority girl Elle Woods, who follows her ex-boyfriend to Harvard in an attempt to win him back. Along the way, she realizes that she doesn't need him to be fulfilled. Instead, she works to break through the stereotype of the ditzy blonde and rise through the ranks to be valedictorian of her class at Harvard Law, befriending and empowering other women along the way.
The movie was adapted to a musical in 2007, and this Spring, the Lincoln-Way Central Theater Department brought that musical to the school's own stage. Senior Sarah Walton played Elle Woods in the production. Although Elle's character in the musical is notorious for being extremely difficult, Walton's years of experience in musical theater helped her to not only do all that is required of the actress playing Elle, but also to really embrace the role, even with all its nuances. Walton says of the role, "I relate to Elle Woods [through her] endless positivity and her determination to never give up. No matter what, she never lets anyone get in the way of achieving her goals, and her perseverance [in] changing everyone's opinion [of] her is inspiring."
Throughout the musical, Elle Woods goes through drastic changes in mindset: at first, her only goal is to win back her boyfriend, despite the fact that he has a new fiance at Harvard Law. What's so inspiring about Elle's journey is that she redefines her goals without redefining herself. Instead of focusing on winning back her ex, she she shifts her focus to getting her J.D., empowering herself through education rather than chasing a man. Still, she doesn't temper her bubbly Valley Girl personality in order to fit in at Harvard. Although she loses herself in trying to meet others' expectations, and "makes navy her new pink," in the end, she embraces pink as her signature color, demanding that people take her seriously even as she embraces traditional femininity.
Furthermore, her relationship with her ex's new fiance, Vivienne, also breaks the traditional rom-com mold. Most early 2000's romantic comedies would pit the two women against each other, competing for the same man, with the winner and loser decided by who he chooses to be with. Instead, at the end of Legally Blonde, the women reach a mutual understanding, and even an eventual friendship, that helps them to realize that the man they had been fighting over was never worth their time. In the end, they both reject him.
The musical, although a comedy, touches on some more serious topics, like self-doubt and sexual assault, but, in the end, Elle is able to overcome her struggles in order to reach a self-actualized state. Legally Blonde's empowering message and catchy tunes surely made it a great experience for all those involved.