Foreign Language at Lincoln-Way Central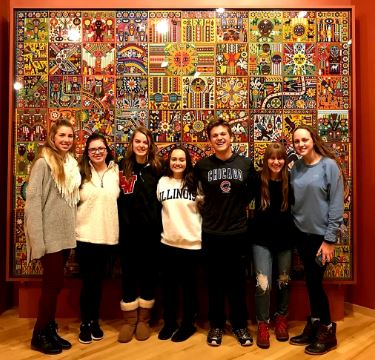 Philosopher of the mind and language Ludwig Wittgenstein once stated: "The limits of my language means the limits of my world." In today's age, the cultural borders of society are diminishing and this simultaneously leads to diversity of language and life. The ability to speak more than one language not only tremendously increases the opportunity of jobs, greater salaries, and more enjoyable and immersive vacations, but also the ability to connect and communicate with a greater number of people. Communication and speech links every individual because everyone desires the opportunity to freely express themselves and to be listened to.
At Lincoln-Way Central, Spanish and language teacher, Professor Pasbrig truly understands the importance of language and the ability to be bilingual because she believes, "Language promotes community and a sense of self and family." Professor Pasbrig aides countless numbers of students on their journey to learn language through being energetic and involved in class, hosting tutoring sessions after school, as well as connecting with her students.
In the  state of Illinois, only an average of 1% of seniors graduate with the seal of biliteracy, and Lincoln-Way Central greatly contributes to that number thanks to the efforts of teachers like her. Additionally, Professor Pasbrig is the sponsor to Spanish National Honors Society.  This organization provides students the ability to experience different aspects of Hispanic culture through a fun and educational environment.
Recently, students attended the Spanish Art and Culture museum to view beautiful works of art that represent culture in its truest form. Member of Spanish National Honors Society Mary Farhat said, "It was a truly enjoyable experience because I got to hang out with my friends and learn at the same time." Students like Mary represent what it means to be a dedicated and passionate student because she is willing to devote numerous hours to the study and progression of her skills. It takes a hardworking student to learn a foreign language because it is no easy feat; however, it is an accomplishment that is well worthwhile. Language has the opportunity to unlock doors that lead to beautiful and vibrant futures because it creates a sense of self and community.  Professor Prasbrig understands and knows that it shows, "Grit and determination."