Lincoln-Way at the Tournament of Roses Parade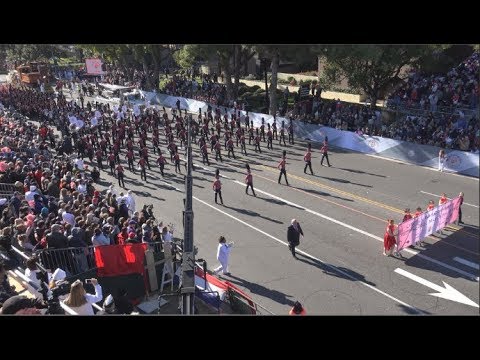 The Lincoln-Way Marching Band marched in the 2019 Tournament of Roses Parade in Pasadena, California –  a great honor for a high school band. Although the parade spans 5.5 miles, Grace Labriola, Mason Zaker, and Tanner Day claim that the parade was not as difficult as the students believed it would be. Labriola attributes her success to the beautiful mountains cheering students on in the distance. Compared to the typical local parades the band has marched, Zaker states the Rose Parade was a lot more fun.
The band faced unique challenges during the parade. The float in front of them caught on fire, so they had to quickly and orderly maneuver around it. According to Zaker, "it wasn't that bad." Labriola confirms, "it was whatever." The Drumline had some problems, forcing improvised roll offs, which begin each song. Worst of all, there was a lot of horse feces at the beginning. On the route, spectators held signs of encouragement and their own stories. The scent of hotdogs and burgers wafted onto the path from the grills that lined the path. The most memorable part for Day was when the band stopped under a bridge and the sound filled up the space with its echo.
Lincoln-Way students met with other bands from around the world after the parade ended. Labriola and Zaker were amazed by the Florida A&M University Drumline, who inspired them as percussionists. The Lincoln-Way Marching Band also marched in the Disneyland parade. They went backstage before, then spent the rest of the day at Disney. Apart from Parade activities, the band made time to visit tourist hot-spots, such as Madam Toussaints', Santa Monica Pier, and Knott's Berry Farm. Most wind players proclaim that they enjoyed time with their friends the most, but the Drumline members believe the food was the best non-performance part of the trip. Specifically, the fresh fruit and In-And-Out Burger.
The students agree that it was a trip of a lifetime that they will always remember.