Basketball Knight Spotlight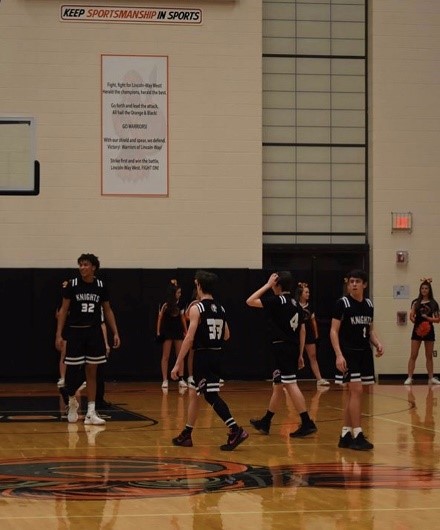 After a 4-3 start for the Knights, Lincoln-Way Central basketball is looking stronger than ever. They recently got a big win against Bradley, a conference rival. The Knights are steadily becoming accustomed to their new teammates, and developing the team chemistry necessary  to succeed in this competitive conference. I talked with junior guard, Sean Michalak about this season and his expectations:
Me: Hey Sean, how do you feel about the team's 4-3 start going forward into the season?
Sean: I mean we could have gotten off to a better start, but I think that we are pretty comfortable with where we are right now.
Me: How do you feel the team has improved since last year?
Sean: We've gotten a lot better shooting-wise, and I think we are faster which really helps in transition.
Me: Who's really stood out as one of the leaders in this early portion of the season?
Sean: Nathan Purcell always plays hard which really encourages the rest of us to give it our all as well
Me: How confident do you feel that central will be in the playoffs this year?
Sean: It's pretty early in the season, but I could see us winning Regionals, or hopefully more.
Sean picked up his first points recently against Bradley at the free throw line just a few days ago. Since Sean is still developing as a junior, he doesn't receive major minutes or heavy offensive control. It will be interesting to see Sean develop and become a key role in the team by the end of this year and in the following year.
George Burchfield is another key player for the Kngihts. The point guard/shooting guard for the Lincoln Way Central Knights Varsity Basketball Team has had many outstanding performances, one of which where he scored 14 points against Marian Catholic freshman year, including 4 three pointers in the second half.
When asked if he could compare his playing style to any player in the NBA, he claims it would be Rajon Rondo. This is because he is a great ball handler and passer, but is not known for his scoring. He feels they are similar in this way. Don't let this comparison confuse you though; George is a very effective scorer when needed, but chooses to be a team player for his role on the team.
Although George is a very skilled basketball player, he is also an outstanding student. I have asked him for some advice on how to balance between sports, school, and life in general. He says, "don't stress out."  If something is difficult for him, or he can't do something, he says "it's fine" and assesses the problem. Also, don't get upset about things too easily or get involved with drama because it's not worth the time or energy. He always cuts out time to watch YouTube, play video games, or get fresh air. He believes this mixture of fresh air, exercise and Fortnite (one of his favorite games) is the combination for success and good grades. What else will George bring to the court for theKnights? Come to the varsity basketball games, support the school, and watch to find out!