Beauty DIY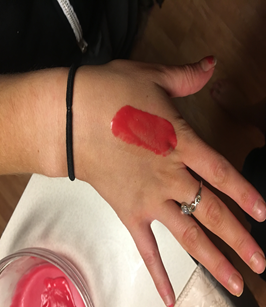 There are many DIY beauty tricks on Pinterest and other crafty websites that claim to save the crafter time and money.  We put two popular DIY beauty recipes to the test:
Lipstick:  A DIY DON'T
To make this product you need a pot of water, a bowl, crayon (pick your color), and coconut oil. Next, you put the bowl in the pot of water and turn the stove on. Put as much coconut oil as needed in the bowl to get a good consistency, then add the crayon of your choice and melt it together. When it is all melted, let it harden and then apply to your lips!
We made this lipstick using crayons and coconut oil. It was unsuccessful; it was more like a gloss and as soon as we put it on using our finger, we could smell and taste the crayons. Yuck.  It also got all over our teeth.
Shaving Exfoliator: DIY Maybe
We made an exfoliator to use while shaving.  To make this you need olive oil, sugar, and lemon juice. You mix them all together until you get a smooth consistency and then apply to the area you're shaving.
We tried this shaving cream on our legs.  We saw it was harder to shave with it on, but our skin was very soft after using it.  If you're willing to put up with the hassle of making this cream and making the task at hand a bit more difficult, the soft skin was worth it.