Spotlight: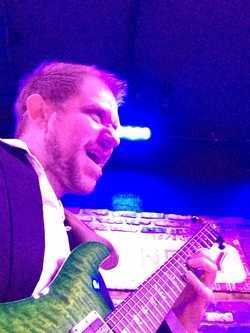 Jonathan Pointon, Staff Writer
November 3, 2017
Recently, I had the pleasure of sitting down with my Guitar 1 teacher, Nate Jackson, for a brief interview about his experiences as a teacher and as a lover of music. What started as a brief interview blossomed into a full-fledged discussion about his upbringing, the dreams he had when he was young, and the developments he faced as he grew up and headed for college, pursuing a career as a musician.
From humble beginnings, Nate Jackson graduated from Martinsville Junior Senior High School in a class of only about 100 students. Living in a small town with not a lot of options, it was at age fourteen that Nate was gifted his first guitar and began learning to play, developing a strong fondness for the instrument. He worked every summer to earn enough money to upgrade his guitar for each new year of school. This love for music and playing of guitar led him to pursue a career as a musician, which drove him to earn a degree in music performance in college. I learned that before he started teaching, he had a career as a live performer, playing gigs, concerts, and private events, mostly in downtown Chicago. Before that, he did private lessons for new musicians.
However, it was after a few years in the music field that Nate Jackson found his true calling: teaching. At first he taught college students, but finally found his niche helping high schoolers to learn music and music theory. As he described it, "The coolest part about teaching is the look on the students' faces when they play at the end of the year. Most of them started with no experience, and they finish the year playing full songs like pros." I asked him what a good piece of advice would be for someone looking to start playing guitar. His response was one that I could not agree with more; "Take it slow and don't get frustrated. It takes a long time to develop those skills, and you just have to keep pushing at it day by day to get better. Only after those little leaps that you can look back and see how far you've come."