Thoughts on graduation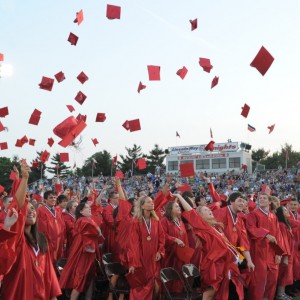 Hang on for a minute...we're trying to find some more stories you might like.
Graduation is just a few weeks away and college is in the near future for Lincoln-Way's best and brightest seniors. While finals are approaching as well, this exciting new chapter is enough to lift any stressed spirits. As a junior, I know that this time next year, I'll be in the same position as the seniors, and with out a doubt, wearing everything and anything that represents my future college. It's one of the most exciting times in a young adult's life simply because every student gets to take a sigh of relief and celebrate how much they accomplished in their four years of education. You will look back on the goal that was set at the beginning of freshman year, and on this seemingly long journey to achieve it, you will also learn to sacrifice. Sleep and social life, for example, become scarce as you remember a paper is due by the end of the day, and a chapter test is in 24 hours. It is a testament on your ability to multitask, as well as learn how to take a deep breath. High school is a battle ground in a sense. Teenagers are fighting for acceptance, excellent grades to represent their "worth", and all the while, juggling to learn who they are. These years will be unforgivable, it is the honest truth. Some days you will hate it, and some days you'll wish it will never end. However, on graduation day, you can take a look back at the first day you walked into those big doors that revealed a place that will break you down, slowly build you back up, make you into a person you never expected to be, and prepare you for the real world of endless possibilities. Senior year is a time where people really learn to appreciate high school as a place where knowledge is obtained each and everyday, friendships are renewed, lost, called to question, and most importantly, as a place to call home. Nonetheless, parents also dream of the day their child finishes high school and then moves out into the world to continue becoming who they are truly meant to be. Deep down they know their child has been leaving for a long time. High school begins a slow retreat, like the water draining from a tub. You barely notice as it's happening, and then suddenly you shiver and awaken to nothing around. From the minute they were born, to the day a parent has to let them go, it is vital to be at ease with the fact that their is no place for a baby to go, but out. Though, like students, parents need to take a step back and realize all that they accomplished. Now, an eighteen year old may not completely understand what their parents are going through, but one day they might experience it for themselves. It is an endless cycle of learning, growing, living, loving, and influencing the next generation of the "best and the brightest".