Some sensational seasons
This competition season the Knights Cheer and Dance teams made a splash. Both teams went to State and represented their school with flying colors. Lincoln-Way Central is so proud of these girls and their outstanding seasons, especially for the seniors who got to end their high school careers with amazing accomplishments.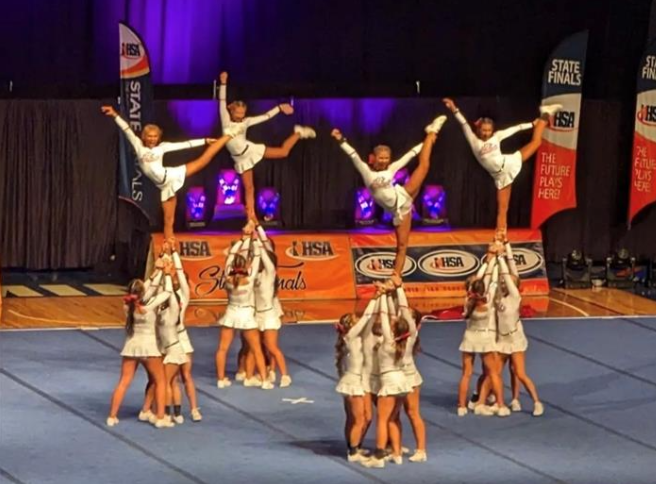 LWC Varsity Cheer started their season strong with performances at the Oak Forest Cheer competition and at Lincoln-Way Central. Although these girls are mostly seen at football games, they put in incredible amounts of work outside of football season to become the talents they are. When Lexi Lamb was asked about her cheer season, she said the team is like a family. They all support each other and enjoy one another's company – like they do on the bus rides to competitions while screaming their favorite songs, but they also know when to be serious and get ready to compete. Before a performance, the girls gather in a circle and talk before they break with their chant. On January 20th, the Varsity and JV Cheer team took home the SWSC Conference 1st place trophy.  This was the first time in LWC history that the Knights achieved 1st place in Conference on their home turf. This win also set them on their way to State. Lexi Lamb described State as an incredible experience. She exclaimed, "The feeling of being out on that mat in front of a huge crowd is unmatched." Although the girls did not do as well as they had hoped on Day 1, they advanced and dominated on Day 2. The JV Knights took 1st at State and the Varsity Knights took 5th place after two days of fierce competition. This is the highest the Lincoln-Way Central Cheer team has ever placed at State.  These girls truly displayed Knight pride and made Lincoln-Way Central so proud to have them as student athletes.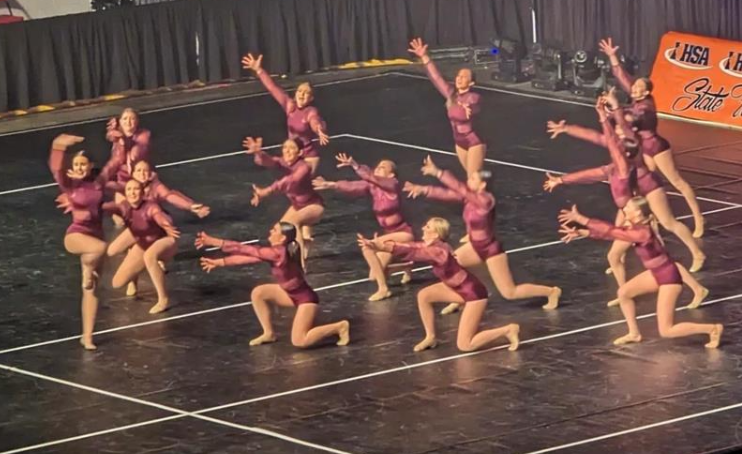 Our Lincoln-Way Central Rhythm Knights also had a great season. They are aan integral part of football season at Lincoln-Way Central, but in their off season, they are fierce. After their sectional win on January 22nd, the girls took on State. When asked, Veda Simmons, a Varsity Rhythm Knight, said that State was her favorite part of the season. She loved the bus ride there and being able to enjoy her time with the team. "All the girls are so loving and supportive," she stated. On January 27th, the girls headed to State and put up a good fight. Although they didn't place, the girls had a rewarding season with a bittersweet end as they graduated their beloved seniors who had been with them since the beginning.
These girls had fantastic seasons and they deserve all the applause in the world. The Lincoln-Way family couldn't be prouder of their seasons and their amazing representation of Knight Pride.